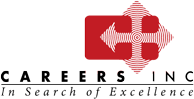 Operations & Logistics Manager
Careers Inc.
Puerto Rico

Permanente
Tiempo completo
Description

A local Client is hiring a Head of Logistics Operations for their Puerto Rico Site.

We look for a people manager and hands-on leader able to establish timelines, develop employees through their successful growth, and provide strategic logistics input to support the business transportation, storage and merchandise import/export processes.

Requirements

Bachelor's Degree
Minimum of 7+ year experience in Logistics
Careers Inc.